Steinstuecken: A Little Pocket of Freedom
A new book about a unique episode in the Cold War. A story of determination and German-American partnership, that deserves to be remembered.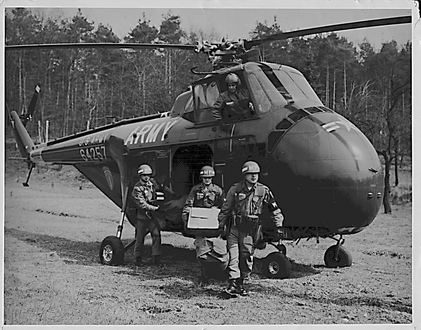 Now available for preorder!!!
When the Cold War split Berlin in half, between East and West, one neighborhood was trapped in the middle, and became a symbol of Cold War tensions. For more than twenty years, the hamlet of Steinstuecken was caught in a tug-of-war between the Americans and the Communists.
Steinstuecken: A Little Pocket of Freedom
, tells this hamlet's story against the backdrop of the Cold War in Western Europe. Steinstuecken officially belonged to the U.S. Occupation Sector of Berlin. But, it was located outside the city boundaries, completely surrounded by East German territory. No West Berlin-owned roads or trails connected it to the city. It was a de facto Western island in a Communist sea.
America could have turned its back on Steinstuecken—but it didn't. U.S. officials in Berlin rose to the hamlet's defense. During the Berlin Wall crisis, the Americans sent a Military Police (MP) detachment to the village to ensure its safety. Army MPs maintained an outpost in Steinstuecken for
more than ten years
, flying in and out on Army helicopters.
Steinstuecken was a test of America's resolve to keep its promise to defend West Berlin. It was a frequent target of Communist pressure. The neighborhood's name was often in the news; its fate drew the attention of world leaders—even the President of the United States. Meanwhile, the villagers tried to live as normal a life as possible.
Steinstuecken: A Little Pocket of Freedom
describes the challenges America faced in occupied Berlin and the courage so many West Berliners showed when facing Communist soldiers on a daily basis..
This website is brand new---we are adding lots more information. Keep checking back for updates!
"A wonderful David and Goliath story about the brave citizens of this little hamlet and the courageous American MPs, aviators and diplomats who came to protect them. Any student of the Cold War, Berlin, or Germany needs to read this well researched and grippingly told book."
—John B Emerson, US Ambassador to the Federal Republic of Germany, 2013-17
"An engaging study of what a few brave people can do to preserve
their freedom against overwhelming odds."
—Victor Davis Hanson, The Hoover Institution, Stanford University, Author—
The Second World Wars
"An intriguing read for everyone interested in German and Cold
War history. The detailed account of the faith of one small exclave
of West Berlin exemplifies the difficulties of the post-war world
order very well."
—Marcel P. Rotter, Chair, Department of Modern Languages
and Literatures, University of Mary Washington